BIT.SHES TOOLBOX
Art + Blockchain + Inclusion
Learning Center:
How To Create a Digital Tezos Wallet
This guide will provide you with step-by-step instructions on how to create a digital Tezos wallet. This will enable you to both collect and store Tezos-backed NFTs, such as NFTs that are featured in Bit.Shes Gallery. To learn more about digital wallets, you can check out our lesson Understanding Crypto Wallets.
There are many wallets on Tezos, and we recommend doing your research to find your preferred wallet. In this guide, we will use Temple Wallet, a user-friendly browser extension wallet for interacting with the Tezos ecosystem.
With that, let's get started!
---
Step 1: Install Temple Wallet extension
Navigate to Temple Wallet and click on "Install Now" in the upper-righthand corner.
Please note that you will need to use a compatible browser, such as Chrome, Firefox, or Brave. In our guide, we are using Chrome.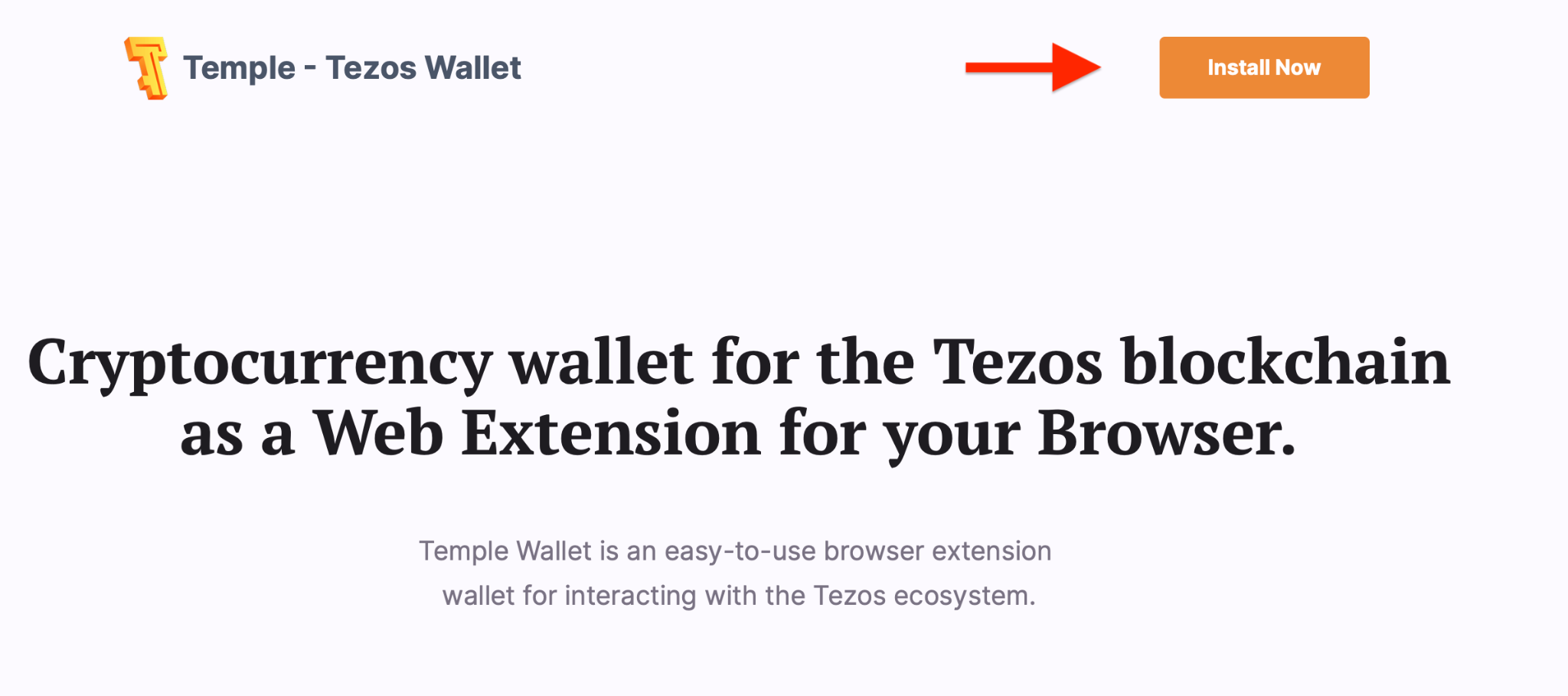 Step 2: Select your preferred browser and click "Install"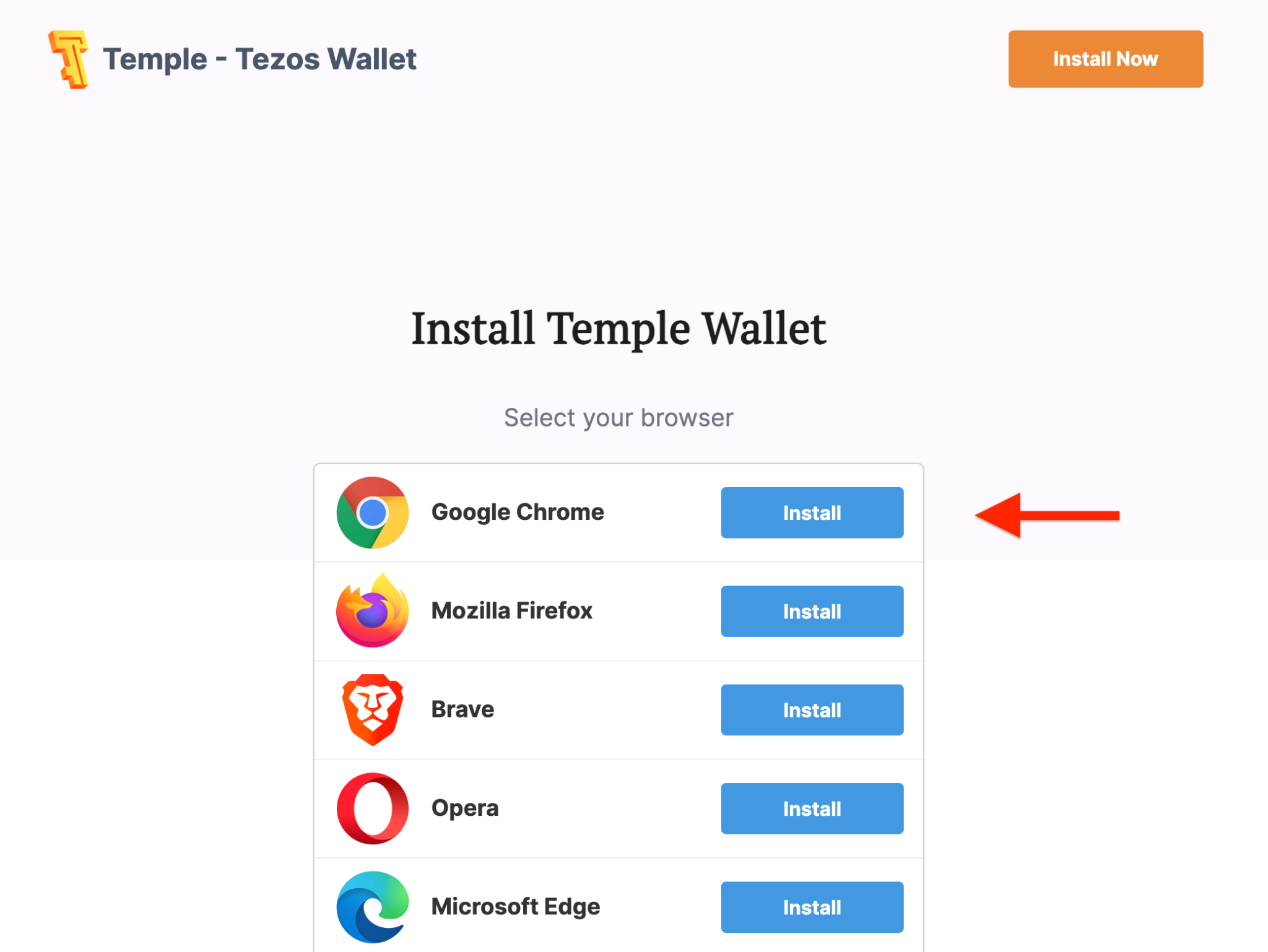 Step 3: Add to Browser

Step 4: Create a new wallet
Once you have successfully installed the Temple extension, you will now have the option to import an existing wallet or create a new wallet. Assuming you do not yet have a wallet, you will select "Create a new wallet."
Note: It is important to make sure that you have a secure internet connection. It is not recommended to use any public networks or devices which you cannot trust.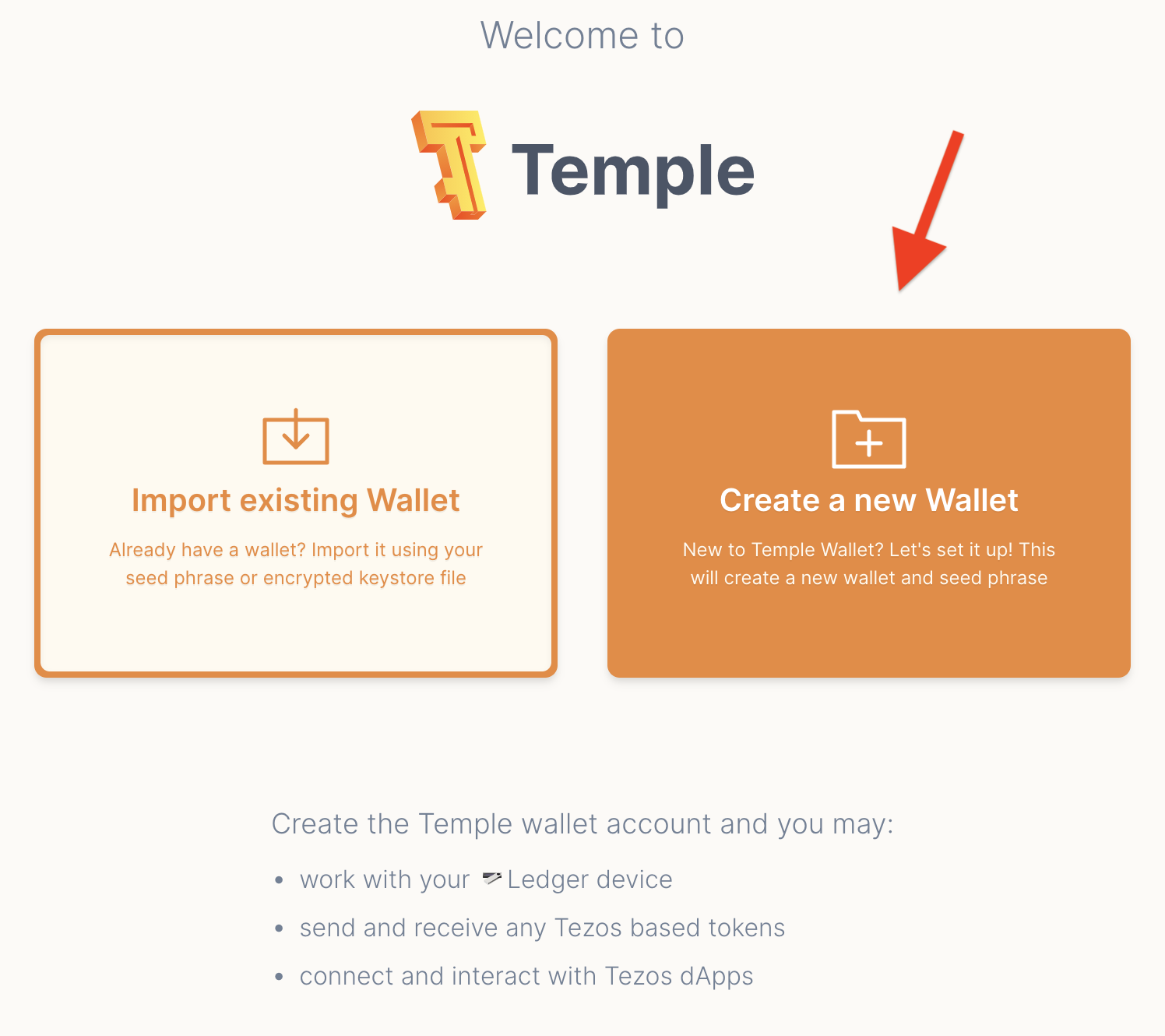 Step 5: Create password
You will now create a password that you will use to enter the wallet. Choose a password that is difficult to guess, and be sure to keep track of it. Once you have typed in your password, you must accept the terms of usage and click the "Create" button.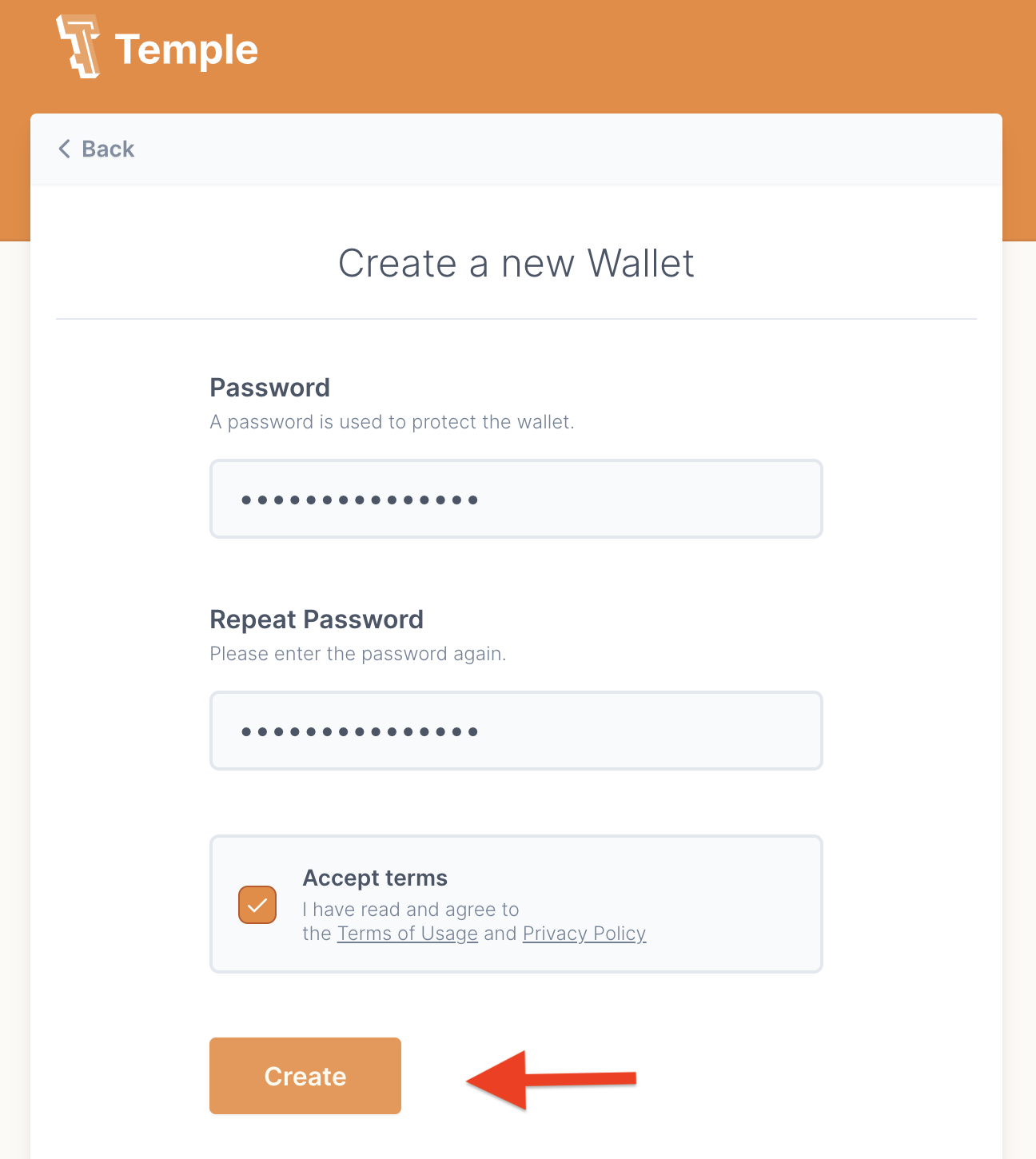 Step 6: Back up your Seed Phrase
Temple will now generate your seed phrase. In order to view it, click the reveal box. Should you ever forget your password or want to enter the wallet from a new device, you will be able to use your seed phrase to restore your wallet.
IMPORTANT: It is vital to keep track of your seed phrase and to keep it private. Should you lose your seed phrase, or if it is not kept secure, you can lose access to your wallet and all of its contents or have them stolen. It is recommended to write it down on a piece of paper and store it in a secure location.
After safely backing up your seed phrase, you will now select "I made Seed Phrase backup" and click the "Continue" button.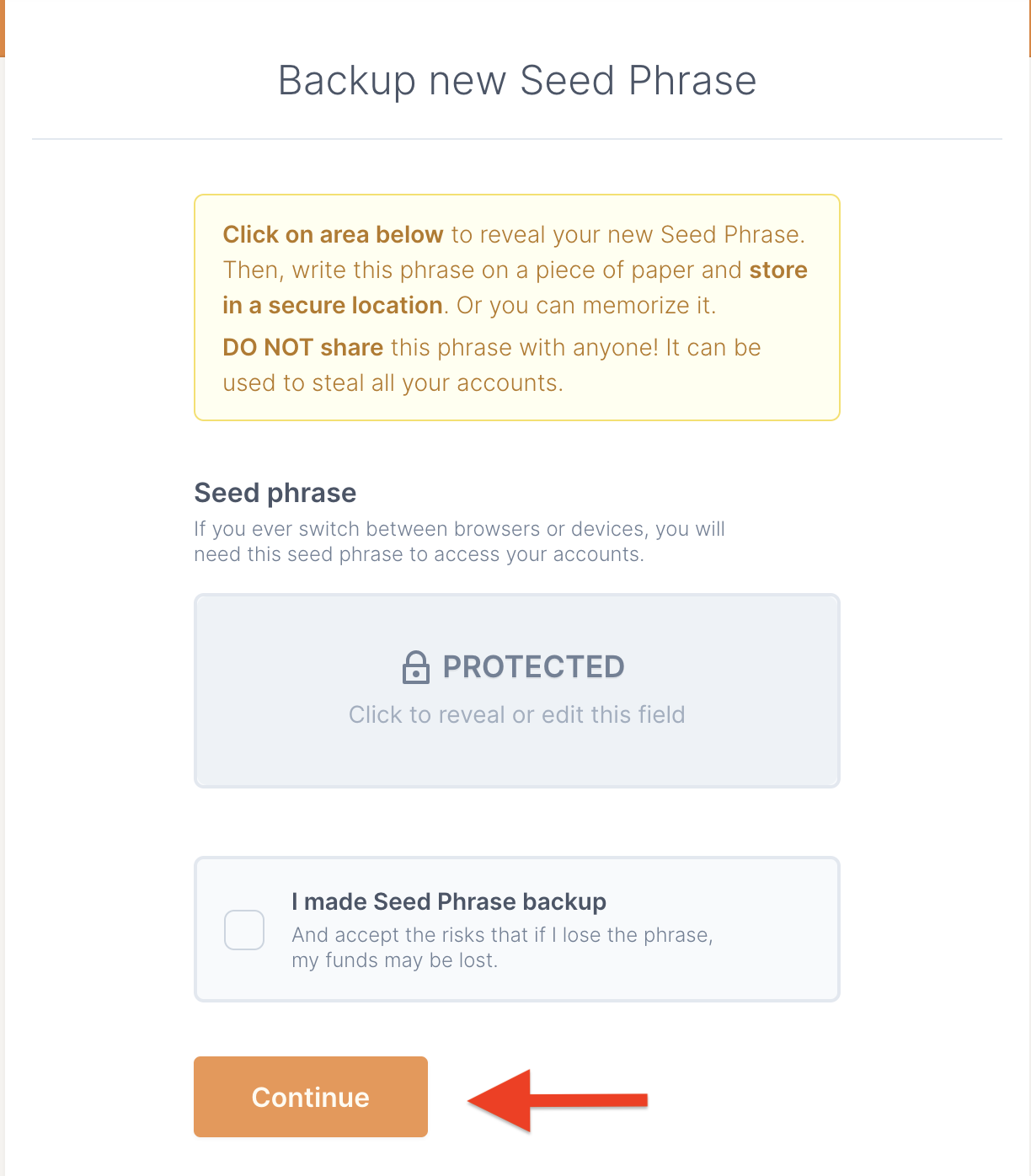 Step 7: Temple Wallet created! Take note of public wallet address
Congratulations! Your Temple Wallet is set up.
Take note of your public wallet address, an example of which is seen in the photo below. You can use your public wallet address to interact with the Tezos Ecosystem, such as to receive NFTs and much more.
For example, you can use your public wallet address to receive a free Tezos-backed NFT Art "Diploma" from our Bit.Shes NFT Course.
To copy your full wallet address, you can click on it which will copy it to your clipboard.
Thanks for joining us!